TDMK(TM) SERIES LARGE AC THREE-PHASE SYNCHRONOUS MOTORS FOR MINING MILLS,CEMENT,CHINA FACTORY SEALOCEAN
Large three-phase synchronous AC motors of the TDMK(TM) series for mining enterprises
This series of motors manufactured by SEALOCEAN GROUP OF COMPANIES (CHINA) (including TDMK series brush synchronous motors and TMW brushless synchronous motors) is widely used in mining, cement and other industries due to the high starting torque. It is mainly used to drive mechanical equipment with low speed and high power, mainly to drive lattice type ball mills, rod mills, coal mills, etc. Leading domestic products, exclusive patents, first sales.
This series of engines is suitable for indoor and outdoor operation, where the altitude above sea level does not exceed 1000 meters, the temperature of the cooling medium does not exceed 40 degrees, and there is also little dust, steam, acid, alkali and other aggressive gases.
The rated voltage of this series of motors is 6000 V, as well as 3000 V and 10,000 V according to user requirements. The permissible voltage deviation range is 5%, the nominal frequency of the network is 50 Hz, the nominal power factor is 0.9 (advanced).
The motor has a cylindrical shaft end, and its direction of rotation must be rotated in the direction indicated on the index plate.The direction of rotation is usually counterclockwise from the end of the collector ring, and can also be done clockwise according to the requirements.
When the motor and the mill are connected by a coupling, the elongation of the motor shaft cannot withstand external radial or axial force.
This series of motor excitation systems uses a thyristor excitation device .
- TM3150-12/2150 3150kw 6kV IP44
-TM2000-60/4250 2000kw 6kV IP44
- TMW3300-30/2900 3300 kW 10 kV IP21 (Ansteel group)
1000000 TDMK1800-40/3250 1800KW 10kV IP20 (Pangang Group)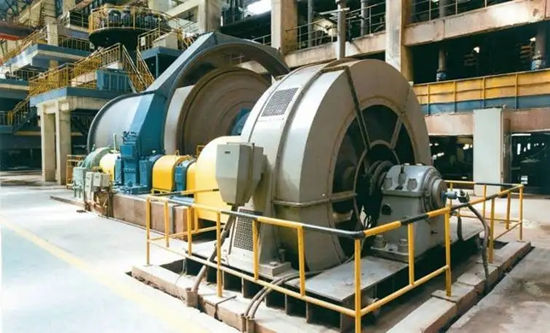 Group of Companies Sealocean (China)
Directorate of regional sales in the CIS
Viber/whatsapp: +86 159 8584 0856
Sites: www.sealocean-international.com
From China - low price and good quality
(electric motor, gearbox, pump, valve,
lifting winch,Crane MTF,AIR,APM,5AMH,NMRV)