CHINA FACTORY YKK,YXKK MOTTOR LOW PRICE AND GOOD QUALITY FACTORY DIRECT SUPPLY DIRECT SALE
CHINA FACTORY YKK3553-4 315 KW 6 KV, YKK5004-10 280 KW 10 KV / IP55 IC611,YKK5005-6 710KW 10000v,YKK6305-6 1800KW 10KV,IP54,YKK630-2 2500KW 6KV,YKK900 -8 3150KW 10KV,YKK400-2W 315KW 10000V,YKK6302-6 1400KW,6KV,IP54,YKK5005-8 450KW 10KV,IP54,YKK4001-2 200KW,10KV,IP54,YKK5604-10 710KW 6KV,YKK560-4 1400KW 6KV
1. Product features:
YKK series 6KV three-phase asynchronous motor (center height 355~630) is a closed cage rotor three-phase asynchronous motor with air-air cooler.The three-phase asynchronous motor is produced in accordance with the technical conditions of JB/T10315.2-2002.The protection level of the motor is IP44 or IP54, and the cooling method is IC611.
This series of motors has the advantages of high efficiency, energy saving, low noise, low vibration, light weight, easy installation and maintenance.
This series of motors can be used to drive a variety of different machinery.Such as ventilators, compressors, water pumps, crushers, cutting machine tools and other equipment, and can be used as prime mover for coal mines, machinery industries, power plants and various industrial and mining enterprises.
The structure and installation method of this series of motors are IMB3. The rating refers to the continuous quota based on the continuous working system (S1). The rated frequency of the motor is 50Hz and the rated voltage is 6KV. Other voltage levels or special requirements can be agreed with the user when ordering.
Model meaning:
Taking YKK3551-4 as an example, YKK represents a closed cage rotor asynchronous motor with air-air cooler, 3551 represents the center height of the base 355mm, the length of the No. 1 iron core, and 4 represents the number of motor poles.
2. Instructions for ordering (users must indicate the following requirements when ordering):
For example:
Motor model: YKK3551-4 Installation method: IMB3
Rated power: 185KW Protection level: IP44 or IP54
Rated voltage: 6000V Cooling method: IC611
Rated frequency: 50Hz Insulation grade: F grade
Synchronous speed: 1500r/min Environmental conditions: altitude 1km, ambient temperature 40℃.
It is recommended to note the following information when shooting:
Installation method: IMB3 (horizontal, horizontal installation), IMB5 (vertical), IMB35 (vertical and horizontal), etc.
Rated voltage: low voltage motor: 380V, 660V, 380V/660V, etc.
   High-voltage motor: 6000V; 10000V, etc.
Rated frequency: commonly used as 50Hz;
Protection level: IP44;IP54;IP55;
3. After-sales service:
This product is produced according to relevant standards and has a period of one year.During the period, if there is a quality problem, after receiving the user's notification, a clear reply will be given immediately; when service personnel need to be dispatched, they will arrive at the scene within 500 kilometers within 24 hours, within 500-1000 kilometers, 48 hours to arrive at the scene, and more than 1000 kilometers, 56 hours to arrive at the scene (except for irresistible factors).
Delivery date:
Due to the different product structures of high-voltage motors, low—voltage motors below 2P—200kw, 4P-315kw, and 6P-200kw are available.The order cycle for other low-voltage motors is about 20 days, and the high-voltage motors is about 30 days. When ordering, a motor contract will be attached. The contract will take effect upon the arrival of the deposit. The balance will be paid before delivery, and the full amount will be shipped.
4. Other instructions:
1.Since other channels are sold at the same time, please confirm whether it is or the delivery cycle before the auction, you can contact by phone: 18700497111.
2.Because the product is relatively heavy, the default logistics method is car consignment or other logistics methods and only arrives at the pick-up outlets of the freight department. The buyer needs to pick it up by himself. If you need to deliver it to your door, please submit it separately.
5. Physical product map: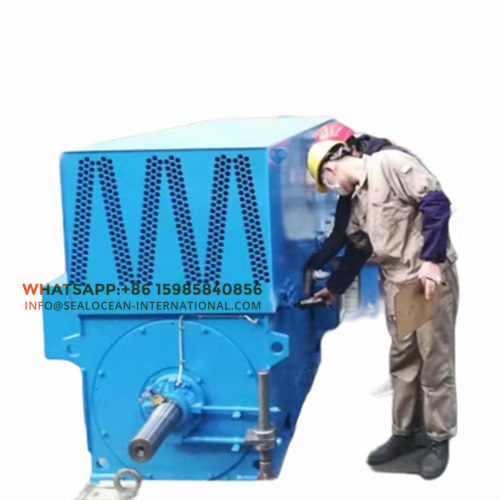 CHINA FACTORY YKK3553-4 315 KW 6 KV, YKK5004-10 280 KW 10 KV / IP55 IC611,YKK5005-6 710KW 10000v,YKK6305-6 1800KW 10KV,IP54,YKK630-2 2500KW 6KV,YKK900 -8 3150KW 10KV,YKK400-2W 315KW 10000V,YKK6302-6 1400KW,6KV,IP54,YKK5005-8 450KW 10KV,IP54,YKK4001-2 200KW,10KV,IP54,YKK5604-10 710KW 6KV,YKK560-4 1400KW 6KV factory price ,more model please contact us
Group of Company Sealocean (China )
Sales Manager
тel:0086-15985840856
Viber/whatsapp: +86 159 8584 0856
Video and photo of Company: